Detail
Attention to detail assures that the printed piece is faithful to the designer's intention. At Broudy, we understand that the printing our clients require is the cumulative result of each small step in the process. This is why we manage every detail along the way, creating a setting in which our customers' requirements – routine or extraordinary – are reliably met. From the spotless plant floor to our flawless first proofs, every detail of our work has been given careful attention.
We manage the small matters too often overlooked by others. Broudy makes the extra efforts our clients come to appreciate – we work with them. Each project brought to Broudy gets more than top quality printing. It is completed reliably – on time and with care. Our clients rest assured, secure in the knowledge that Broudy has managed all the details.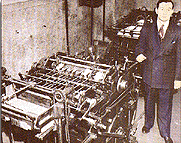 Heritage
When the standards of a craft are established and then exceeded, year after year, a heritage is built. At Broudy, we measure our work against a commitment to the centuries-old traditions of our craft. We do not settle for limited notions of quality. Only the best will do.
This attitude extends to our concept of service. It includes authentic respect for the trust clients place in us. At Broudy, we sustain the traditions of people who care deeply about their work, and we value our relationships with those whom we are privileged to serve.
Performance
Behind the scenes of every memorable performance there is a complex process, blending craft, artistry and dedication into a coherent production. This is no less true of our printing than it is of memorable performances in the theater.
The Broudy staff includes Pittsburgh's most seasoned printing professionals. Pair their experience with the latest in printing technology, and the stage is set for a stellar production. Yet something more is needed – the desire to excel in each and every performance. This is what sets Broudy apart, and it is what you can expect from us… always.
Resonance
Each piece must resonate with its intended audience. Text must be clear and accessible. Images must enrich the reader's experience. When properly used, the rich pigments in the best inks or the sharp dots in a delicate halftone create subtle nuances.
At Broudy, we produce printed materials that communicate effectively with our clients' audiences. That's why we're here and it's how we operate… entirely. When you work with Broudy, you can relax, confident that our work will resound with your audience. We'll get your projects done right and done on time… each and every time.