Working with an environmentally friendly printing company can be a smart business move and the right thing for the plant. The environmental logos on your printed pieces can resonate powerfully with clients. These symbols communicate ethical character to today's buyers, who often favor companies whose concerns match their ideals.
Forest Stewardship Council® (FSC®) Certification

To be certified as an FSC® certified organization a company must meet a number of rigorous, specific standards. Use of the FSC® labels is one of the most basic indicators that a company is a truly "green" organization. It shows compliance with the highest social and environmental standards.
FSC® certification helps to protect and promote your brand and reputation. Increasingly governments, educational institutions and many others specify FSC certified products.
Visit our FSC® Resource Page for more information.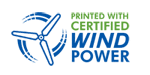 Renewable Energy
At Broudy has committed to purchase clean, renewable energy equal to 100% of its energy use.
Our commitment to renewable engery entitles Broudy's clients to
use the 100% wind power logo on any printed product in addition to the EPA "Green Power Partner" logo.
Visit our Wind Energy Page for more information.
Vegetable based ink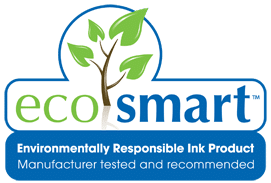 We use non-toxic vegetable based inks in our offset printing process. Our inks qualify for the EcoSmart certification, which means they meet the following requirements:
Contain no more than 5% Volatile Organic Compounds (VOCs) based on Environmental Protection Agency (EPA) Test Method 24, or as calculated from accumulated data on the ingredients contained in the product
Contain a minimum of 45% of renewable resource content as calculated from accumulated data on the ingredients contained in the product
Contain no more than 5% by weight of petroleum distillates
Meet Council of Northeast Governors Coalition (CONEG) regulation for packaging, with a combined heavy metal total of less than 100 ppm of mercury, lead, cadmium and hexavalent chromium