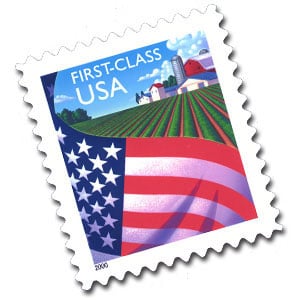 The USPS recently filed a rate case with the Postal Regulatory Commission (PRC) for changes to rates and mailing regulations set to go into effect January 22, 2017, and we're hearing that the commission is close to accepting these proposals as submitted. So, to help you with your budget planning, here's a recap of the proposal.
The proposed overall rate increase is just under 1%, based on the final Consumer Price Index (CPI). First Class mail increases by an average of 0.8%, Standard Mail 0.9%, Periodicals 0.8%, Packages by 1% and Special Services by 2.5%. Here's some good news- while some products within each class will see a price increase, other products will actually experience a price decrease!
First Class Mail
The proposal includes a 2-cent increase in the price of a First-Class stamp to 49-cents. For the second year in a row, metered mail would decrease, this time from 46.5-cents to 46-cents.
There would be a single price for First-Class Mail presorted letters weighing up to 3.5 oz. – an increase over the current 2 oz. cap. This encourages First-Class presort mailers to include more in their mail. The Mixed and MDC rates will increase by 1%, while the 5-digit rate will decrease by 0.8%. The 3-digit automation rate would be eliminated and consolidated into the mixed rates.
First-Class flat rates will increase by an average of 1.9%. The single-piece 1 oz. retail flat will increase from $0.94 to $0.98, or 4.3%. A basic postcard remains at 34-cents. Presort postcards will increase by an average of 1%. Parcels up to 4 oz. will pay a uniform price with an increase of 1.9%, with an incremental 18-cent increase for each additional ounce.
Standard Class Mail to "USPS Marketing Mail"
It starts with a name change of the "Standard Mail" class to "USPS Marketing Mail". Mailers will need  to change their indicia imprint by july, 2018. The proposal increases the weight limit of Standard Mail automation letters from 3.3 to 3.5 oz., and non-automation letters and flats to 4.0 oz. before piece/pound rates apply. Some good news here: Automated Standard Mail letters decrease at the Mixed and AADC levels by 1 o/o, while the 5-digit rate decreases by 1.6%. The 3-digit rate level is being consolidated into a single rate at the MDC level.
Prices for Standard flats will increase an average of 2.5% inclusive of non-automated mail; however, some heavy weight flats will see decreases of up to 7%. In addition, the USPS is reducing the structure of NDC, SCF and DDU entry discounts.
Non-Profit Mail
The rate case proposal is encouraging for non-profit letter mailers, but not flats mailers. For letters, the 5-digit letter rates decline 2.9% and High Density/Saturation rates decline 7.5%. For flats, the 5-digit rate increases 3%, and High Density/Saturation rates increase 3.8%.