The latest software and technology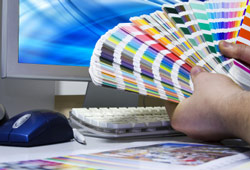 Image Management services via twelve workstations, 2 Dell Servers and an HP Cluster Server with Advanced Data Guarding; Rampage Ripping System for automatic trapping and soft-proofing; electronic imposition with Kodak Preps software.
Cross-platform compatibility (Macs and PCs)
Digital asset management and offsite backup
Image correction prior to first proof.
Image Scanning services provided on a Linotype-Hell ChromaGraph S3300 Repro Drum Scanner and a Heidelberg Prepress Nexscan F4200 CopyDot flatbed scanner.
Color optimized for the paper you choose.
Final Output on an AGFA Avalon Platesetter.
Proofing on 2 Epson Stylus Pro 9800 contract proofing system and 2 HP Designjet T770 Proofers for imposition proofing. CD/DVD recorder services for digital archiving.
Broudy is quick to adapt software and tools to enhance and improve your color images.
Application Support for all popular page composition and
design software including Quark XPress and Adobe Creative Suite.