Personalization adds value
Broudy Printing also offers variable information printing with the HP Indigo Digital Press, providing true one-to-one marketing solutions. With the ability to merge variable text and graphics, we can digitally print and design the ultimate full-color marketing piece directed to specific individuals. By uniquely personalizing and customizing your marketing literature, you can target individuals and businesses based on desired criteria more effectively leveraging the value of your advertising and marketing dollars. Variable information printing allows you to reach your customers, prospects, and other audiences through materials that convey a truly individualized look and language.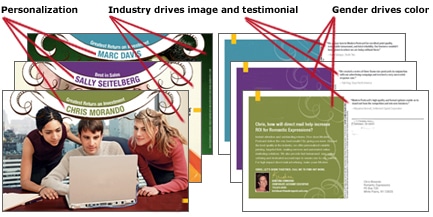 Our HP Indigo Digital Press is capable of high-performance variable data customization for just about any type of printed product. You can target one specific client or 500 different clients by mixing fixed data content with customized variable imprint data that allows you to personalize anything from direct-mail pieces, menus, labels, brochures – all quickly, easily and more cost-effective that ever before. Here are just a few of the possibilites:
Highly targeted, relevant direct mail communications have proven time and again to greatly increase the effectiveness of marketing and communications efforts.
Variable Data Printing (VDP) automates the direct mail process so that each direct mail piece can look as if it's been expressly designed and printed for a single person. Smartly executed, it maximizes the relevance of your direct mail piece and drives responses.
How is each piece targeted and relevant to the recipient?
You can mix and match images and messaging to make your direct mail more personal and relevant to each recipient – which in turn, increases the number of measurable responses. Test offer and design elements! The opportunities to provide different offers based on targeted, personally relevant data are endless.
By combining digital full-color printing with VDP, you can actually customize print pieces in a way that appears seamless.